The image of Bali's beautiful beaches encircled by the shimmering sea is undoubtedly the first thing that springs to mind. But there's more to the Island of Gods than that. Visualise the majestic classic buildings standing in the midst of the thick, cool vegetation of nature.
We're referring to Bali's magnificent temples.
These historic spiritual sites, some of which date back more than 1000 years, are a must-see on any trip to Bali.
It can be challenging to decide which temples are worth including in your schedule, though, given the wide variety of temples that are dispersed over the island.
They are not only amazing for sightseeing, but their landmarks are also enriched with history and culture, making for an unforgettable trip experience.
So for sums up, here's 7 Bali's most sacred temple you must visit:
1. Pura Besakih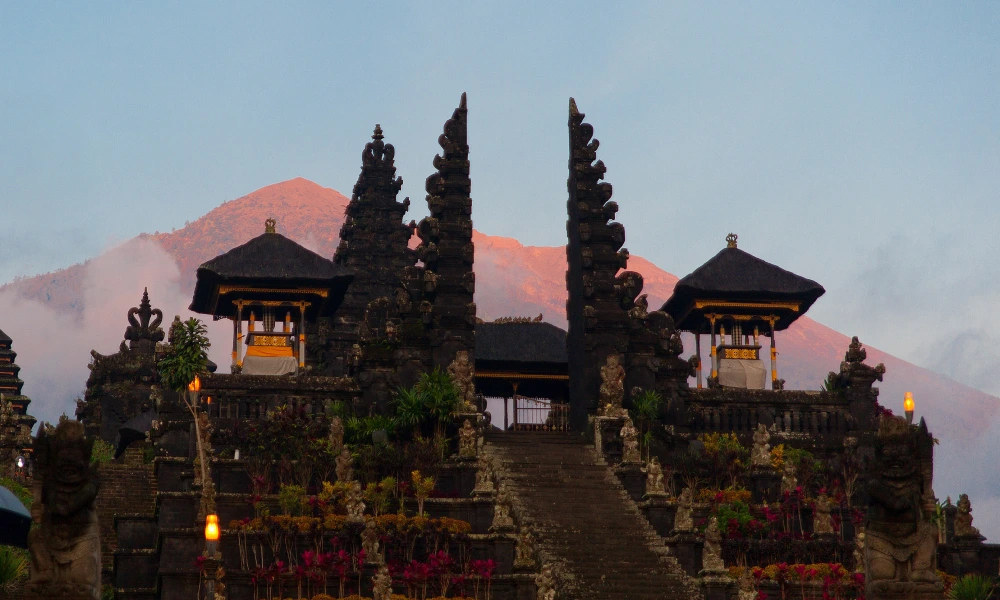 Besakih Temple, also referred to as the "mother temple," is a mandatory stop for everyone travelling to the island.
The oldest and holiest Hindu temple in Bali, it is more than a thousand years old. Only a few of the 80 temples in the vast complex are accessible to the general public.
The largest, most revered, and significant collection of Hindu temples on the island, this complex miraculously avoided destruction during the destructive volcanic eruption of 1963. Besakih Temple is tucked away between sprawling rice terraces, mountains, hills, and streams, all of which provide stunning beauty.
On the slopes of Mount Agung, around 1,000 metres (3,000 feet) above, is where you'll find the Mother Temple of Besakih. There are 86 temples and 23 temple complexes in the Pura Besakih.
The Temple of Besakih's precise ancestry is unknown. However, it has been a sacred location since the Stone Age. You'll see that many of the other temples' stone bases, like those of Pura Penataran Agung, have stepped megalithic pyramidal shapes.
We do know that Hindus began using the location as a place of worship in 1284. At this time, the first conquering Javanese people moved to Bali. Some buildings, according to experts, are from the 700s AD, while others are from the 1340s. Besakih was a state temple of the Gelgel dynasty by the 15th century.
The shrines and smaller buildings holding the temples to lesser gods or the shrines to various Balinese castes surround the temples dedicated to the three primary Hindu gods, Shiva, Vishnu, and Brahma.
2. Pura Ulun Danu Beratan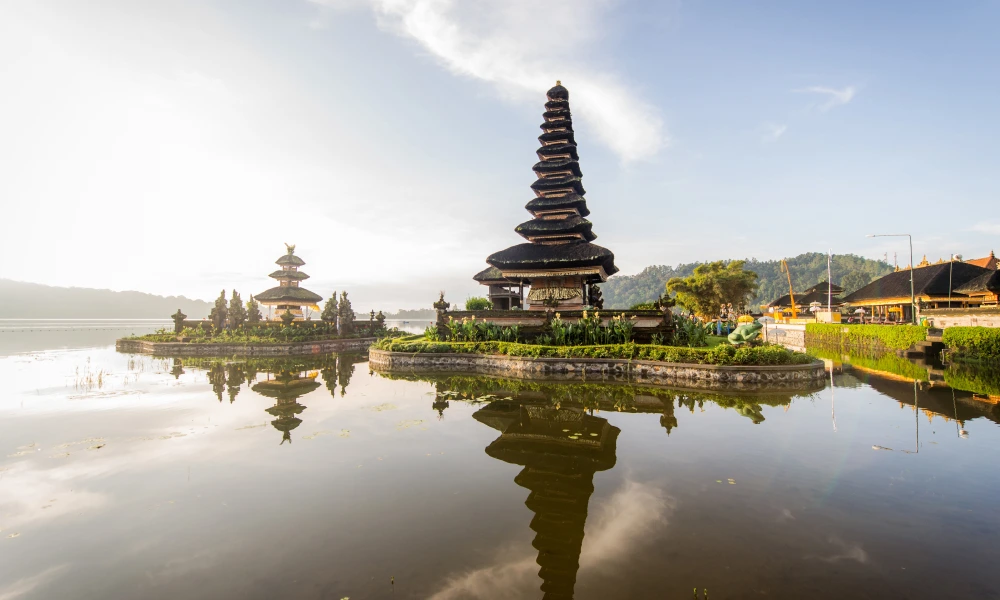 Bali, Indonesia's highlands of the rugged Bedugul region are home to the most enchanting temple complex on the banks of Lake Beratan.
One of Bali's most well-known and substantial temples is the Pura Ulun Danu Beratan. A traditional lontar leaf book showing I Gusti Agung Putu, a king, is used to record the history of this shrine.
He had recently lost to I Gusti Ngurah Batu Tumpeng in a struggle for dominance. I Gusti Agung Putu went to Mount Mangu, close to where the huge Beratan Lake is now, to meditate in an effort to gain more power and enlightenment.
Pura Ulun Danu Bratan is nestled in the hamlet of Candikuning, which is a part of the highlands of Bedugul, Baturiti District, Tabanan Regency, Bali, Indonesia. It is located on Jln. Denpasar-Singaraja.
From Ubud, it takes at least 90 minutes, and from Kuta, Seminyak, or Legian, it takes at least two hours to go to Pura Ulun Danu Temple.
However, that doesn't take into account the heavy traffic that clogs the narrow, one-lane route on weekends and during peak hours.
Since there are no public transportation options to go to Pura Ulun Danu Bratan Temple, we advise renting a scooter or a car with a driver and touring Northern Bali to find some of the best undiscovered jewels!
3. Pura Tanah Lot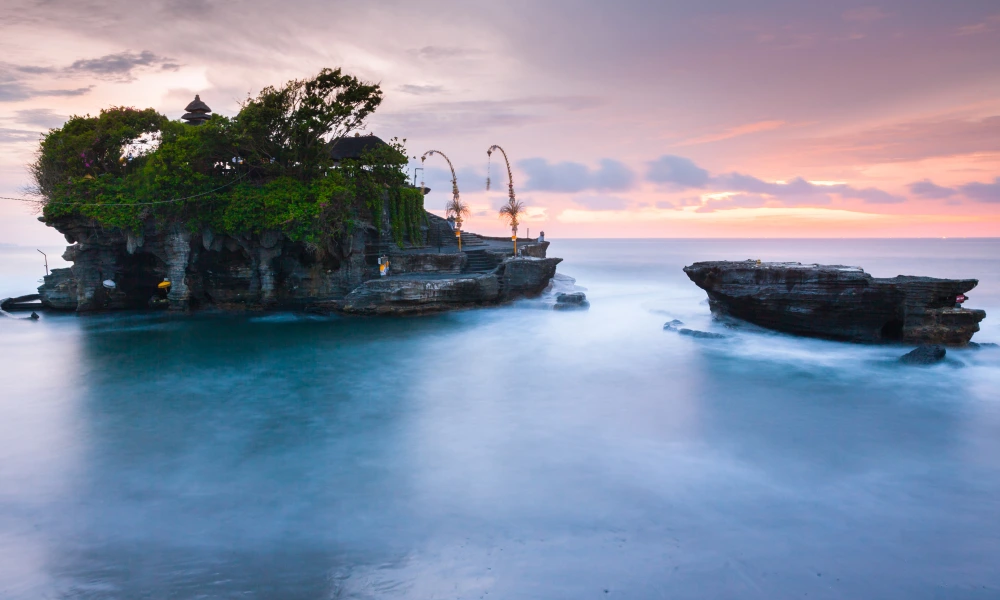 One of Bali's most significant attractions, Tanah Lot Temple is renowned for its distinctive offshore position and sunset backdrops.
Tanah Lot Temple is one of Bali's must-see landmarks; it is an old Hindu sanctuary located atop an outcrop amid loudly breaking surf.
Dedicated to Varuna, the sea god, Tanah Lot Temple is an old Balinese building. After Dang Hyang Nirartha's spiritual voyage (tirtha yatra) to Bali in the fifteenth century, the buildings were constructed, and they have never been used for anything other than their intended purpose.
Tanah Lot has been well-maintained as a result of continual use, and the Balinese people continue to value it as a place of worship.
Built on a sizable coral rock that separates it from the neighbouring island of Bali, Tanah Lot Temple is a collection of wooden buildings that dates back to the fifteenth and sixteenth century.
The complex was once connected to Bali, but erosion has caused it to become isolated from the mainland.
In order to provide safety, 100 concrete supports were placed along the beach, but they seriously damaged the temple's and its surroundings' architectural integrity.
The Tanah Lot Temple is a sacred site for Bali's Hindu population. As a basis, before entering the temple, visitors must be aware of the rules about behaviour and dress, which include wearing a Sarong for women and an Udeng for men.
Avoid being disrespectful and littering, cover your shoulders, and shoot pictures from a respectful distance.
4. Pura Lempuyang Luhur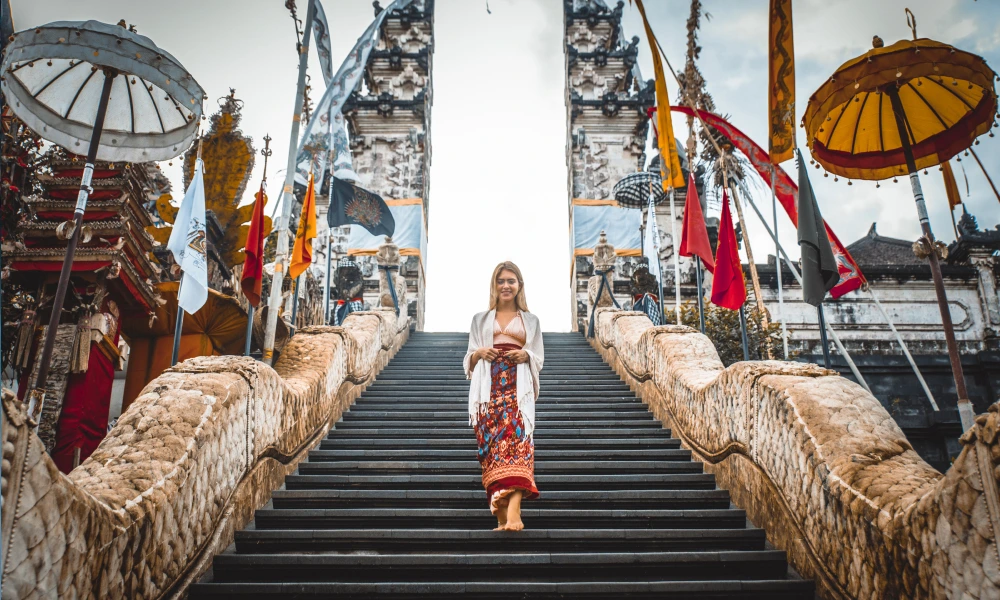 One of Bali's oldest and most revered temples, on par with Besakih (the island's "mother temple"), is Lempuyang Temple, also known as Pura Lempuyang Luhur. Additionally, it is thought that the temple predates the rest of the Hindu temples on the island.
The main temple, which is located at a height of 1,175 metres above sea level on the summit of Mount Lempuyang, is a must-see on any fit and daring traveller's itinerary.
The Lempuyang Temple welcomes weary travellers. It takes around 2.5 hours to get there from Canggu, Seminyak, and Kuta, which are the primary tourist destinations.
It is a closer distance and just takes around two hours if you are staying in Ubud. It comes with a breathtaking view and a tranquil haven of rest after an approximately two-hour climb.
The Lempuyang Temple, also known as The Temple of Thousand Steps, is situated at the peak of Mount Lempuyang. In order to reach the temple, one must ascend 1700 stairs.
The temple itself is smaller than the Penataran Agung, but the surroundings and tranquillity have a more mysterious air. Following prayers, the priest sprinkles calming holy water that calms the body, mind, and spirit.
As one of Bali's oldest and most revered temples, Lempuyang is a centre of worship. In truth, Sad Kahyangan Jagad has been given to this temple and the group of neighbouring temples.
This refers to "the six planetary sanctuaries." The majority of Bali's other Hindu temples are said to have been built before the temple.
5. Pura Tirta Empul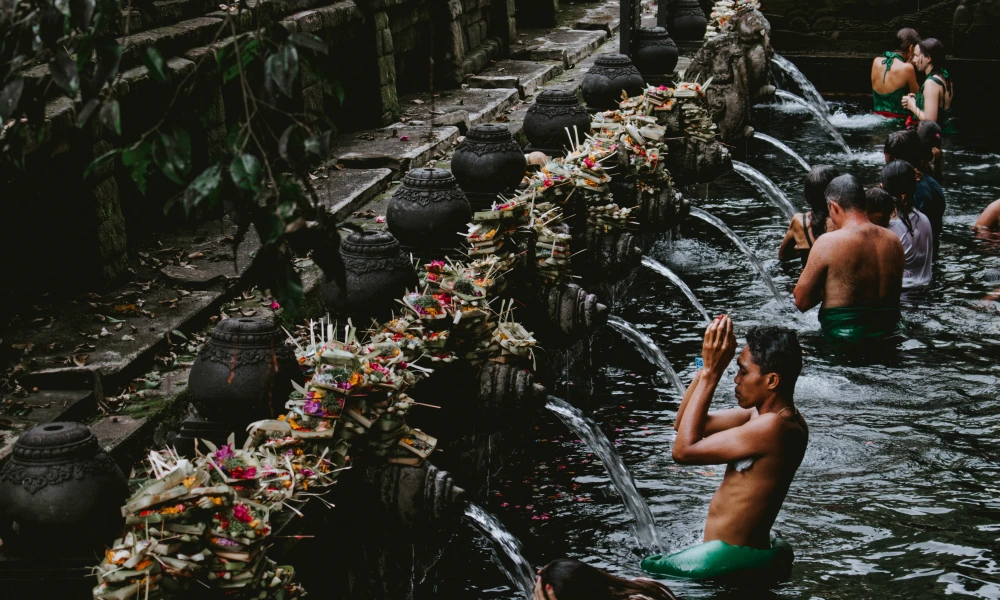 One of Indonesia's biggest and busiest water temples is located in Bali's Tirta Empul.
Pura Lempuyang Luhur was established in 926 AD and honours Indra, the Highest Hindu god in heaven. In Balinese, the temple's name really means "holy water spring."
A presidential residence constructed in 1954 for Soekarno, Indonesia's first president, looks over the temple complex. Today, key visitors and visiting dignitaries are welcomed at the government palace.
Although it may not be on a lake or close to the ocean like other water temples, water is unquestionably important.
For water purifying rituals, pilgrims and individuals in search of spirituality travel to this location. 100% of visitors say this experience is worthwhile.
This figure is based on the proportion of all product reviews on Tripadvisor with bubble ratings of 4 or above. Travellers give this encounter a 97% positive rating.
It's always vital to dress respectfully when visiting any temple in Bali. The traditional kamen wrap or sarong across the lower body and a sash around the waist make up the basic Balinese temple visitor attire.
Preparing to complete the ritual bath, make sure to carry a spare sarong so you can replace the wet one after the bath. You may also rent a sarong at the temple's gate for a nominal gift.
All temples and holy places are off-limits to women during their periods; they are only permitted to visit the attractions on the outside.
6. Pura Luhur Uluwatu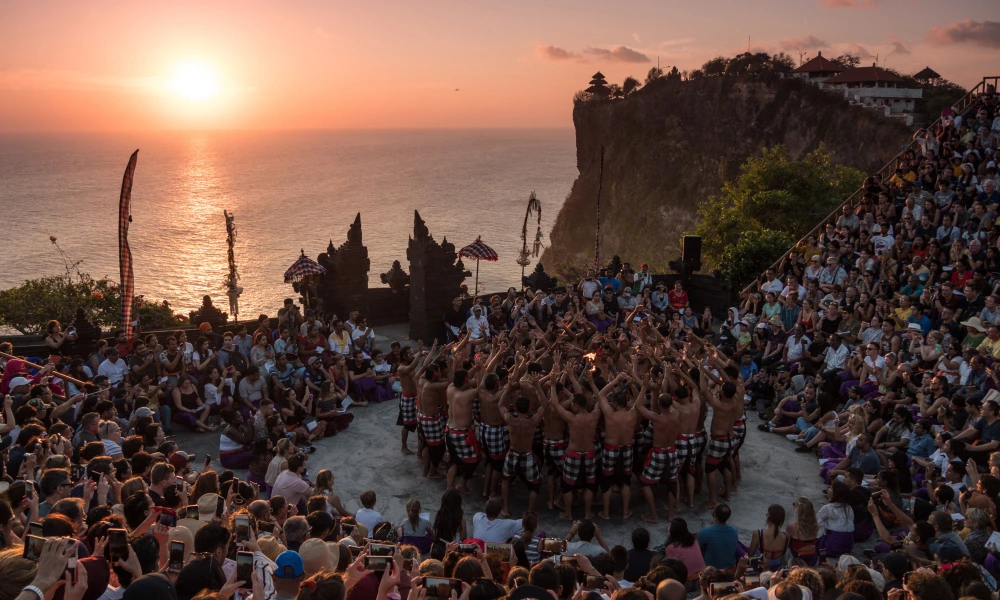 In the very south of Uluwatu Bali, there is a famous coastal pagoda called the Pura Uluwatu Temple that is perched on a cliff.
Due to its magnificent cliffs, sunset vistas, traditional Balinese "Kecak" fire dance, and the notoriously cunning Uluwatu monkeys who prefer to hang out nearby, this 1,000-year-old temple is one of Bali Island's most well-known tourist attractions.
We would consider Uluwatu Temple to be a must-do because it is conveniently located near Kuta and other well-known tourist destinations in Bali. Everything about the experience stands out.
Around 1,000 years ago, Mpu Kuturan, a Majapahit guru who also helped found Pura Sakenan in Denpasar and several other significant temples in Bali, was the driving force behind the creation of Uluwatu Temple.
Additionally, the remnants discovered on the site, in accordance with the Archaeological Survey of India, demonstrate that the temple was constructed from a collection of stones that date back to the 10th century.
When visiting any temple in Bali, it is always important to dress respectfully. Both men and women must dress modestly inside the temple by tying a sarong, scarf, or sash around their waists.
As long as you visit the temple, you are welcome to borrow a sarong and sash from the ones given inside the grounds.
At the ticket counter in the temple area, one can purchase the temple entrance ticket. The "Balinese Sarong" is included in the entrance charge.
The entrance fee to Uluwatu Temple was Rp50.000 for adults and Rp30.000 for kids.
While tickets to see a kecak dance performance are also sold there for Rp100.000 for adults and children.
Opening hours for the Uluwatu Temple begin at 9:00 AM. If visitors wish to worship in peace, they should go to Uluwatu Temple in the morning since it is less busy and they may take their time and finish their prayers without feeling rushed.
However, the greatest time to see Uluwatu Temple is in the evening when the sun sets and casts a beautiful rainbow of colours behind this historic monument.
7. Goa Gajah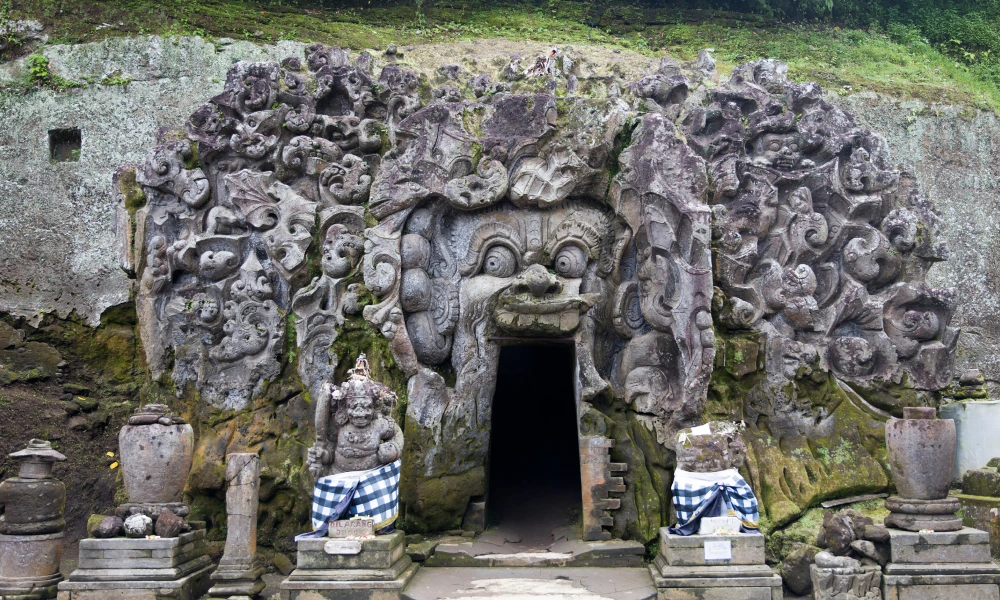 In Ubud, Bali, the Pura Goa Gajah Temple is an intriguing ancient Hindu cave temple from the ninth century. Goa Gajah is believed to have existed in the 11th century, while artefacts from earlier periods have been discovered nearby.
Goa Gajah and the Elephant Cave were first mentioned in the 1365 Javanese poetry Desawarnana.
Due to its proximity to the Elephant River, Goa Gajah is also known as the Elephant Cave locally. Visitors from nearby Ubud are drawn to a mysterious cave, artefacts, and historic bathing waters that are surrounded by lush rice paddies and a garden.
Goa Gajah's ominous entrance, which resembles a demonic mouth, gives the impression that those who enter into the pitch-black interior are entering an underworld.
Others assert that the mouth belongs to the child-eating witch Rangda from Balinese folklore, while others assert that the entrance depicts the Hindu earth god Bhoma.
In 1995, the UNESCO tentatively recognized Goa Gajah as a World Heritage Site.
The cave is thought to have been constructed as a location for spiritual meditation, despite the fact that its actual beginnings are unknown.
According to one piece of folklore, the legendary giant Kebo Iwa's fingernail was responsible for its creation.
Bali is full of fascinating locations to explore, particularly their magnificent temples that are surrounded by the island's lush beauty.
It makes sense why it is called a Thousand Temple Island. You can learn more about Bali's tradition and history if you try to explore more of these locations.
We advise you to follow the CHSE (cleanliness, health, safety, and environmental sustainability) health guidelines as you prepare for your upcoming trip to these six locations.
This implies that while you're out and about, you should always wear a mask, keep your distance from other people, and always wash your hands.