Bali is a well-liked vacation spot renowned for its stunning beaches, lively culture, and opulent resorts & villas. The best time to visit Bali depends on a variety of factors, including your personal preferences and the activities you want to do while you're there.
In general, the dry season, which lasts from April to October, is the ideal time to visit Bali. During this time, you'll have the best chance of enjoying sunny weather and relatively low humidity.
However, if you're looking to avoid crowds and get the best deals on accommodations, it's best to visit during the shoulder season in April, May, September, or October.
On the contrary, there are many festivals and events during the high-season that lasts around June to August.
Weathers
Bali has two main seasons: the dry season from May to September and the rainy season from October to April.
While it was almost sunny all day long during the dry season, on some days you could feel some cold breeze from Australia during June to August.
The rainy season itself can vary in intensity, but even during the wettest months, showers typically only last for a few hours.
January-March: Wet Months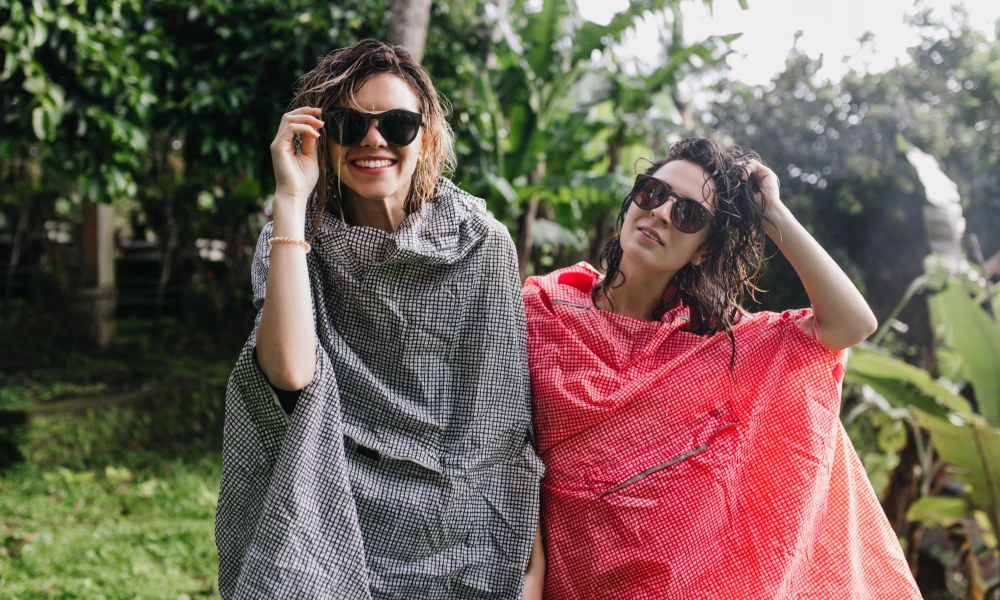 During the month of January, Bali is typically in the midst of its rainy season. While it's still possible to have nice, sunny days, it's more likely that you'll experience tropical rain showers.
In Bali's mountainous regions, such as near the Kintamani volcanoes, temperatures can drop to as low as 10-15 degrees Celsius at night, making the climate much cooler than in the rest of the island.
February is still considered part of the rainy season in Bali, but typically sees less rainfall than January. This makes it a good time to enjoy the island's pools and beaches, but it's important to be aware that rain can still occur at any time.
In March, the rainy season in Bali tends to be coming to an end. This month is often drier than it used to be, though the seasons are becoming less predictable overall. As a result, it's a good time to visit the island if you're looking for drier weather.
April to May: Breezy Bali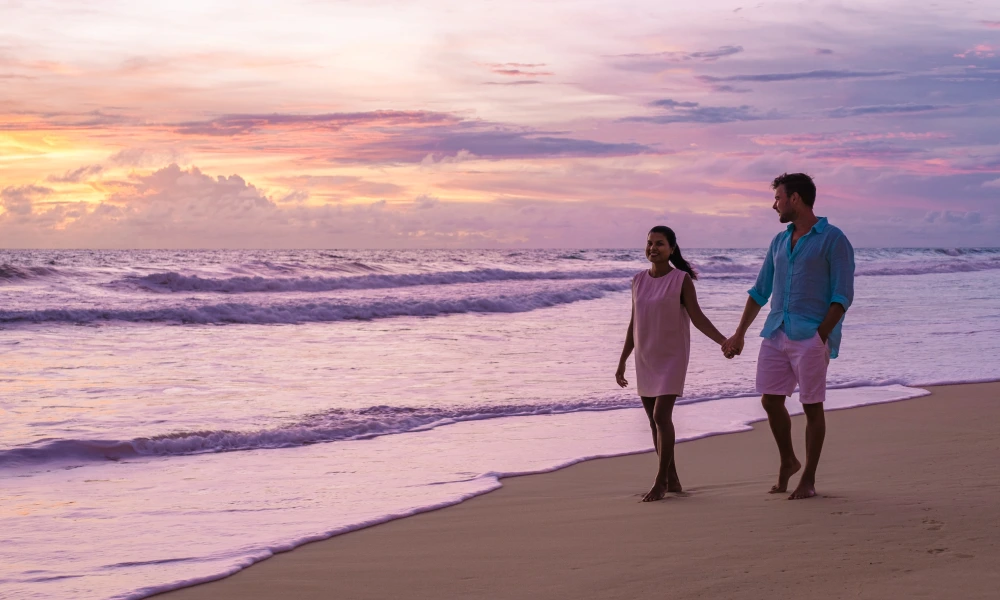 By April, the weather in Bali has typically improved. The beaches are cleaner, the winds at the coast are less intense, and the weather is generally sunny. However, it's still possible to experience rain from time to time.
During Easter school breaks, many vacationers flock to Bali for fun and relaxation, causing popular tourist areas to become crowded. However, the rest of the month is generally quieter than during the summer peak season. This is a good time to visit if you're looking for a more laid-back experience.
May is a great time to visit Bali because the weather is typically fantastic, with clear skies and a pleasant breeze. The beaches are clean, and the sea is generally calmer than it is at other times of the year.
This month is a great time for outdoor activities, as the surfing season is in full swing on the west and south coasts of the island. This is an excellent time to visit if you're a surfer or if you enjoy other outdoor sports and activities.
Overall, it's an excellent time to enjoy the island's many attractions.
June to August: Summer Fest
Like May and September, June is one of the best times to visit Bali. The weather is typically great, with plenty of sunshine and relatively low humidity.
July is considered as a summer peak and tourists from all over the world have arrived in Bali. There are often festivals and other events taking place on the weekends, and the best DJs from around the world are flown in to entertain the crowds.
August falls right within the dry season in Bali, so you can expect mostly sunny weather. However, it's still possible to experience the occasional rain shower.
Overall, this is a good time to visit the island if you're looking for warm and dry weather.
September to October: Welcoming Rain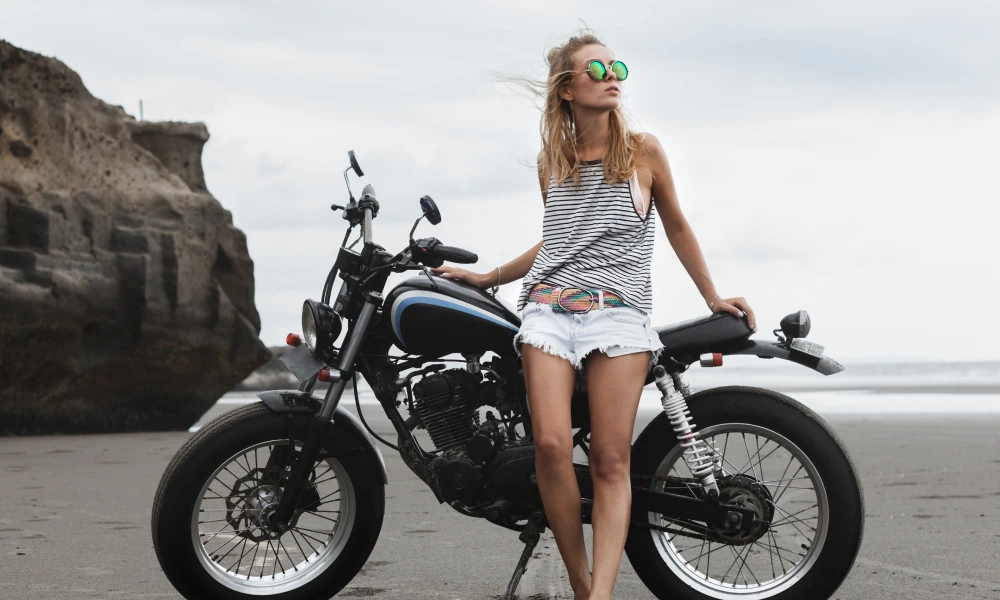 After the crowded season in August, you will experience a calmer side of Bali in September.
This month, the weather in Bali is still beautiful, although intermittent rain showers may indicate that the rainy season is on its way.
October is often considered to be part of the rainy season in Bali, with an average of 15 days with rainfall.
November to December: Tropical Rainy Fest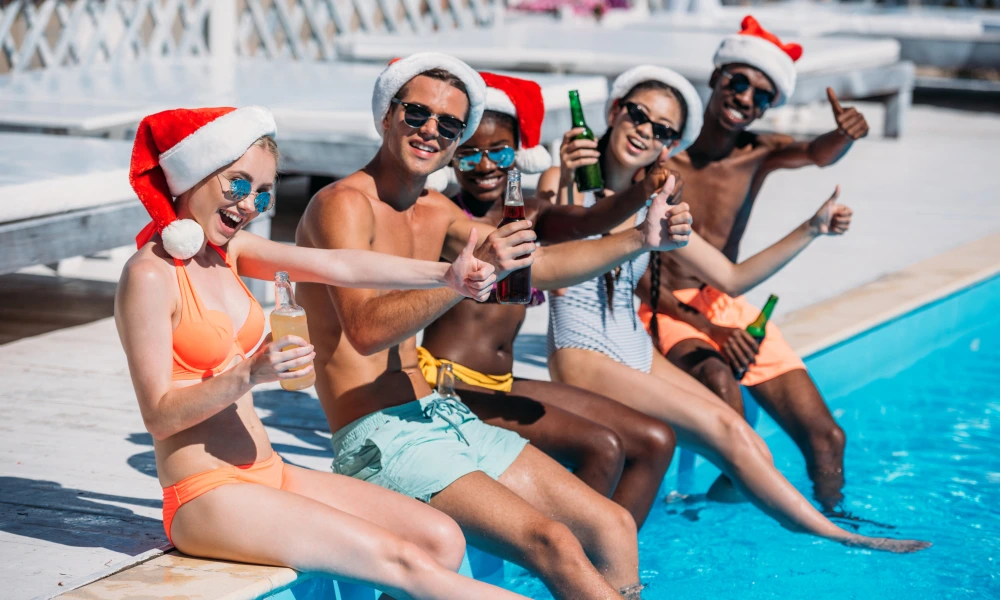 By November, the rainy season has typically arrived in Bali. This means that the weather is more unpredictable, with a higher likelihood of rain. However, there are still plenty of sunny days to enjoy the island's beaches and surfing.
Many people come to Bali during the rainy season to experience a more peaceful and laid-back atmosphere.
You can usually expect some heavy rainfall. When it rains, it is usually short and robust, it can last anywhere between a few minutes to a few days. Sea conditions are rough; it can be windy in the south and trash reaches the shores.
Read our list of New Year's Eve Party in here.
Events & Festival
From stunning beaches and world-class surfing to vibrant nightlife and stunning natural landscapes, there is something for everyone on this beautiful island.
Throughout the year 2023, Bali is becoming host to a variety of events and festivals that showcase its rich culture and offer visitors the chance to experience the island's many delights.
Religion & Spiritual Events & Festival
Galungan (January & August)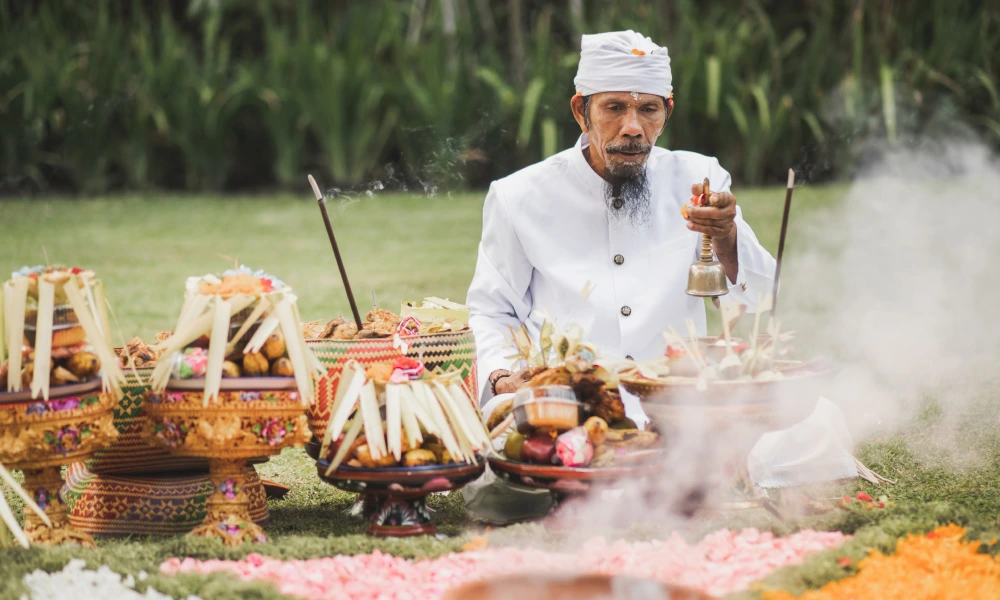 Galungan is one of the major Balinese Hindu festivals that is celebrated on the island of Bali.
It marks the victory of good over evil and the time when ancestral spirits visit the earth.
Galungan takes place every 210 days according to the Balinese calendar. In 2023, Galungan will be commemorated on Jan 4th and August 2nd.
Chinese New Year (January)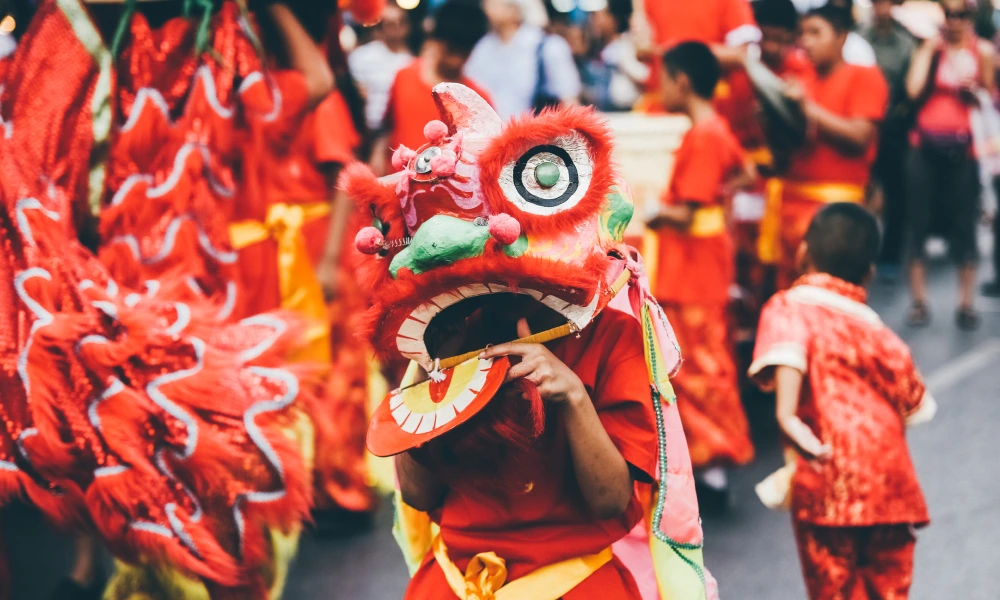 In Bali, the festival is celebrated with a variety of traditions and customs, including the lighting of firecrackers and fireworks, the giving of red envelopes filled with money (ang pao), and the holding of lion and dragon dances.
You will have a fantastic opportunity to discover the rich culture and customs of Bali's Chinese community during this dynamic and exciting time on the island.
In 2023, Chinese New Year celebrations will be held on January 22nd.
Nyepi (March)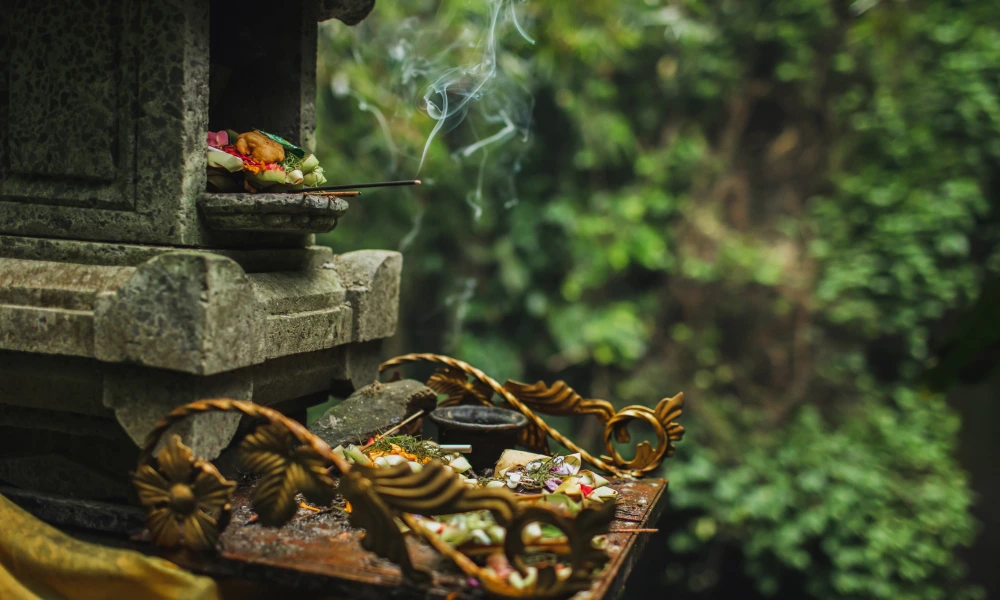 Also known as the Day of Silence, and marks the beginning of the new year in the Balinese calendar (Ḉaka New Year).
During Nyepi, the island is quiet and still, as all activities and lights are turned off and people are encouraged to meditate and reflect on their lives. The streets are empty, and even the airport is closed. 
It is a time of introspection and spiritual renewal, and is an important part of the Balinese religious tradition. Nyepi is a unique experience, and is a great opportunity for visitors to experience the spiritual side of Bali.
In 2023, Nyepi day will be held on March 22nd.
Bali Spirit Festival (May)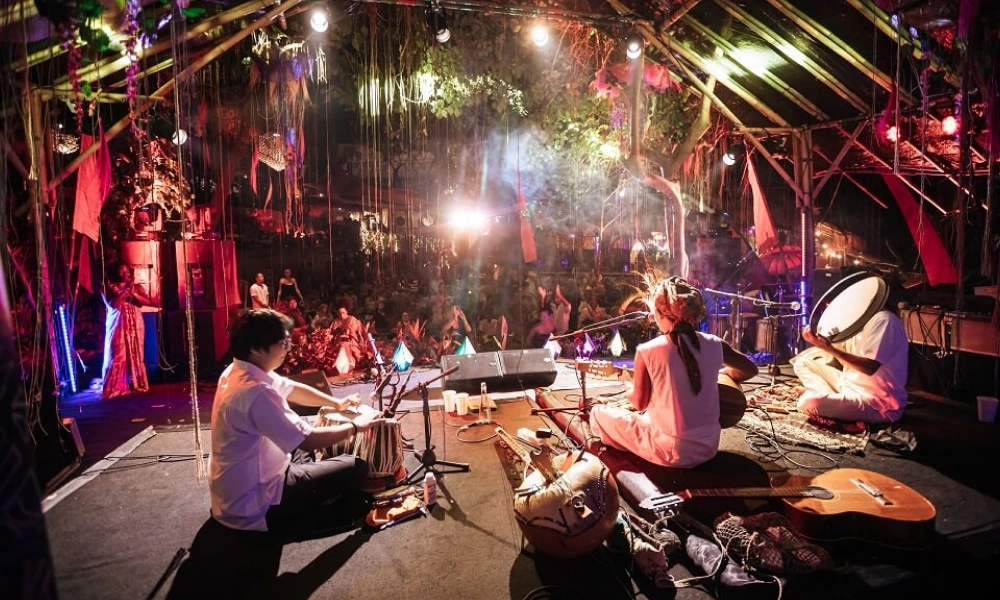 Source: balispiritfestival.com
The Festival brought Ubud to life by drawing a global community of mindful tourists. The festival is now recognized as one of the most motivational gatherings on earth. For 12 years, more than 5000 people joined it each year.
The goal of the BaliSpirit Festival is to awaken and nourish each individual's potential for positive change within, leading to positive change in our homes, in the communities, and around the world.
Through the beneficial and inspirational traditions of Yoga, Dance, and Music, the Bali Spirit Festival embodies the Balinese Hindu concept of Tri Hita Karana: living in harmony with our spiritual, social, and natural environments.
Waisak/Vesak (June)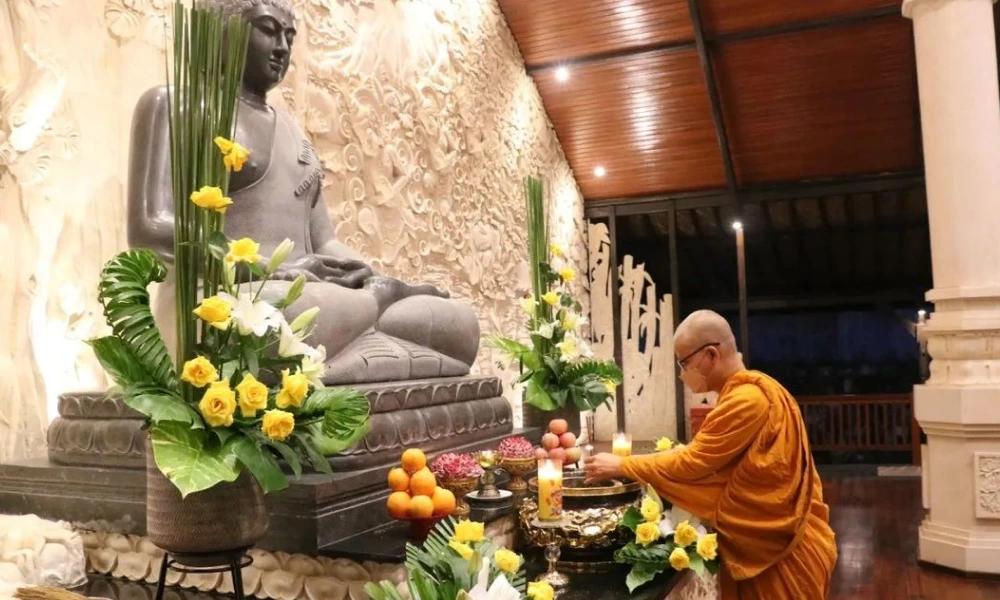 Source: Vihara Asoka Arama Instagram
Waisak or Vesak Day is celebrated by Buddhists to commemorate the birth, enlightenment (nibbāna), and death of the Buddha (parinibbāna). It is typically observed on the full moon day in the month of May-June, which varies from year to year according to the lunar calendar.
Many people who adhere to Buddhist teachings would frequently assemble at several temples early on the day of the celebrations. Following that, offerings are placed at the feet of Buddha statues.
In 2023, Vesak day will be held on June 4th.
Art & Culture Events & Festival
Pesta Kesenian Bali / Bali Arts Festival (June-July)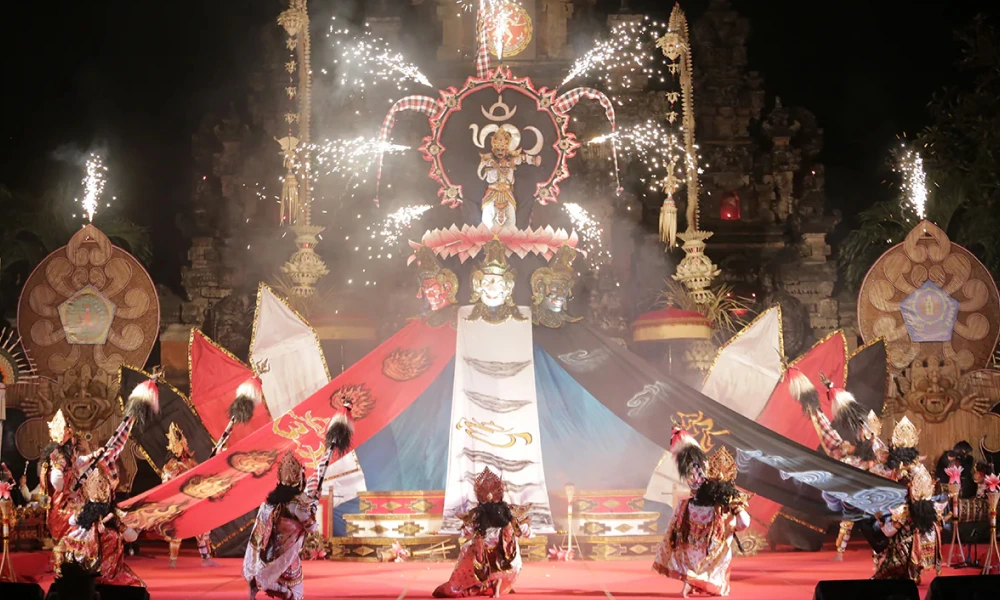 Source: indonesia.travel
First held in 1979 by Bali then-governor, Ida Bagus Mantra, this month-run festival is centred in Denpasar Art Center.
Bali Arts Festival or Pesta Kesenian Bali, offers various art performances that performed by hundreds of art communities and schools from all over Bali. 
This is the best time for you to understand and love Balinese culture even more.
Balinale (June)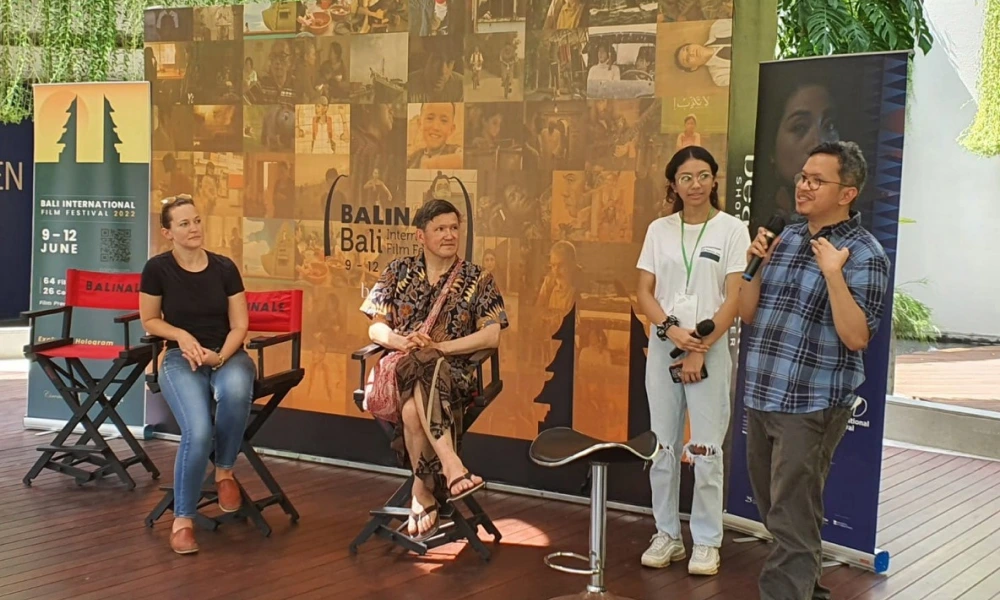 Source: balinale.com
The Bali International Film Festival, commonly referred to locally as Balinale, was established in 2007 and is renowned worldwide for the diversity of its programming, which includes independent and nominated fiction, documentary, feature, and short films from Indonesia and other countries.
The festival is known for the calibre of the events where international filmmakers congregate to cooperate and share, assisting us in realising our vision of assembling creative talent from around the world.
Ubud Food Festival (June)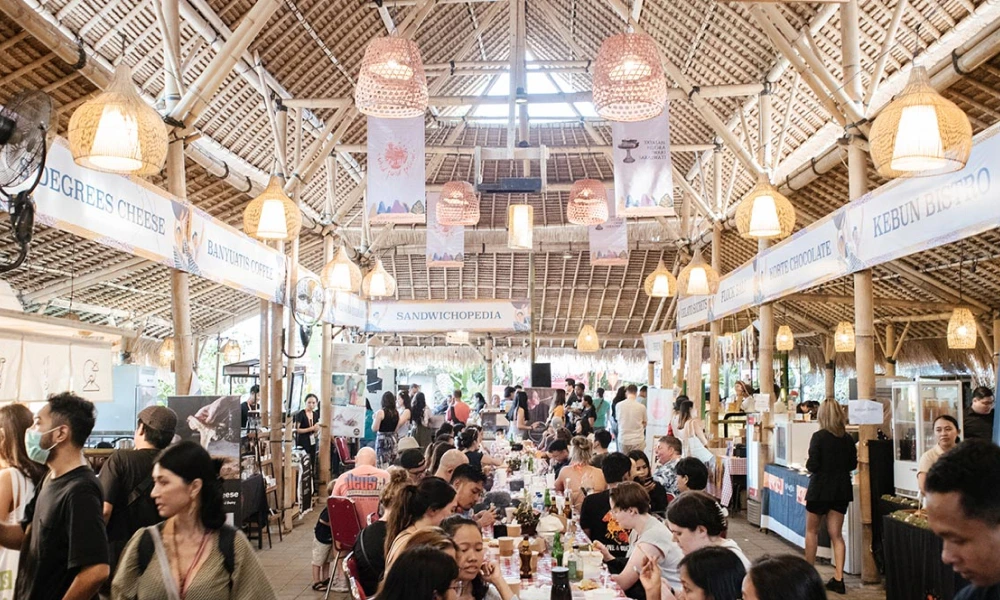 Source: ubudfoodfestival.com
The three-day Ubud Food Festival was established in 2015 and features Indonesian cuisine as its main attraction. Every event has been focused on showcasing the excellent local produce, creative chefs, and diverse cuisine of Indonesia.
The Festival attracts guests and chefs from near and far each year to explore Indonesia's cuisine.
Bali Kite Festival (July-August)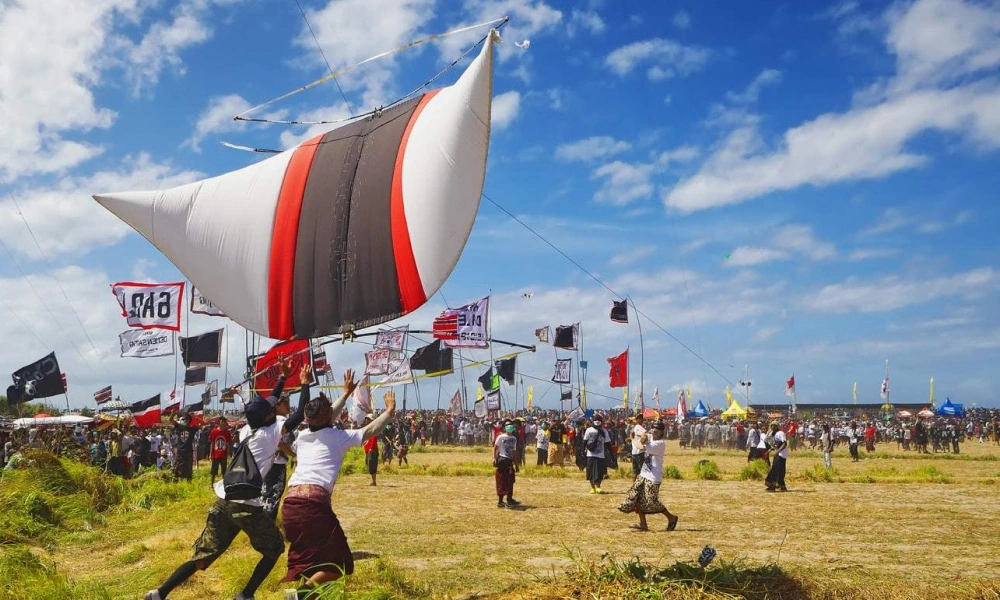 Source: balitravelhub.com
Bali Kite Festival is held annually on the island between July and August.
The occasion, which annually attracts thousands of people, shows the distinctive culture of Bali.
As Bali's windy season begins in July and August, the timing of the kite festival is crucial.
Additionally, all of these months are tourist high seasons, so attendance is at capacity, making it a vibrant and engaging festival.
Ubud Village Jazz Festival (August)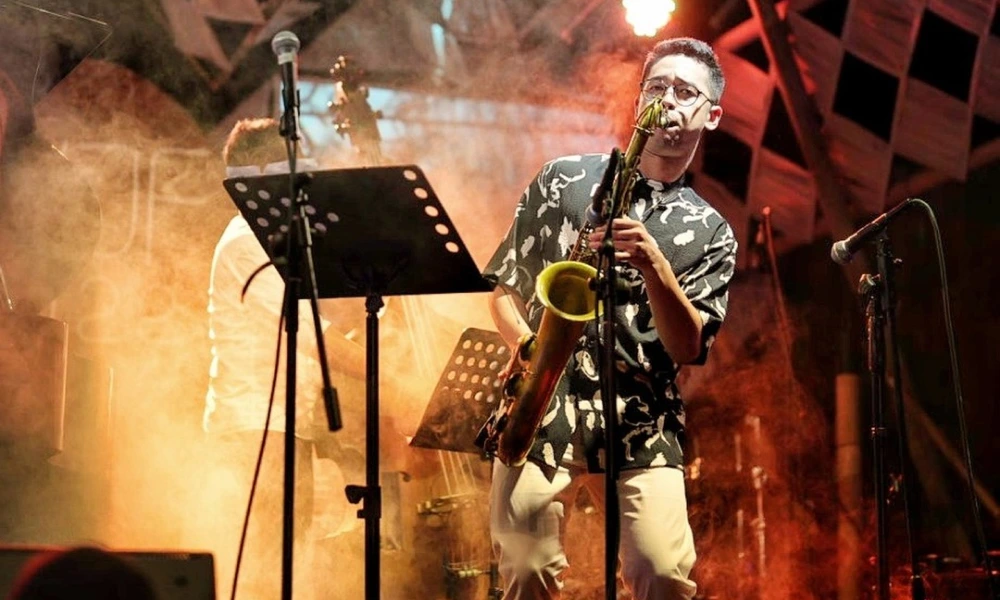 Source: Ubud Village Jazz Festival Instagram
In Ubud, Bali's cultural centre, a sizable public concert series called the Ubud Village Jazz Festival is conducted over two days.
It intends to capture the essence of the brand-new tourist attractions, completing Bali tourism in general, as well as wistfulness for jazz performers and fans of this musical genre, whose numbers reached in the millions worldwide.
Sanur Village Festival (August)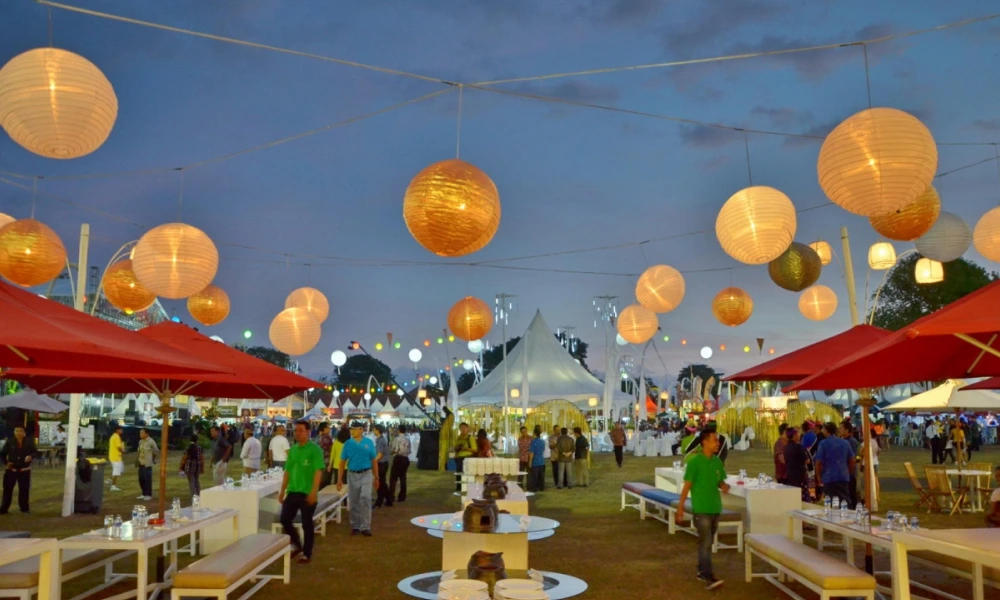 Source: Kompasiana
Following the Bali bombings in 2005, the first Sanur Village festival was organized in 2006 in an effort to increase tourism in the region. The festival is continuously held yearly and has become one of the major cultural events on the island.
The Sanur Village Festival's features include fashion presentations, gourmet exhibits, sporting events, environmental conservation initiatives, and yoga demonstrations.
Visit the various food booths to savour delectable regional fare created by Balinese masters.
Ubud Writers and Readers Festival (October)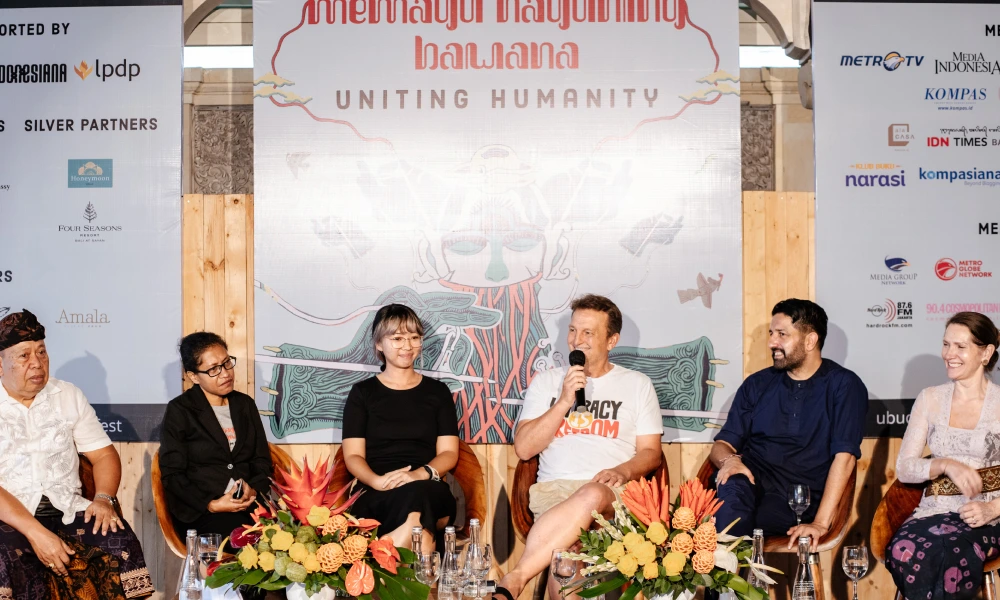 Source: ubudwritersfestival.com
The Festival is regarded as Southeast Asia's largest festival of words and ideas. It aids in promoting Ubud as a centre for the arts and culture, presents Indonesian authors on a global platform, and encourages young Indonesians to realise their potential through literature and educational initiatives.
The money from ticket sales is also used to pay for free public activities, free seminars for local kids, teenagers, and instructors, and to subsidise locals who would not otherwise be able to participate.
Sports Events & Festival
Bali Triathlon (TBA)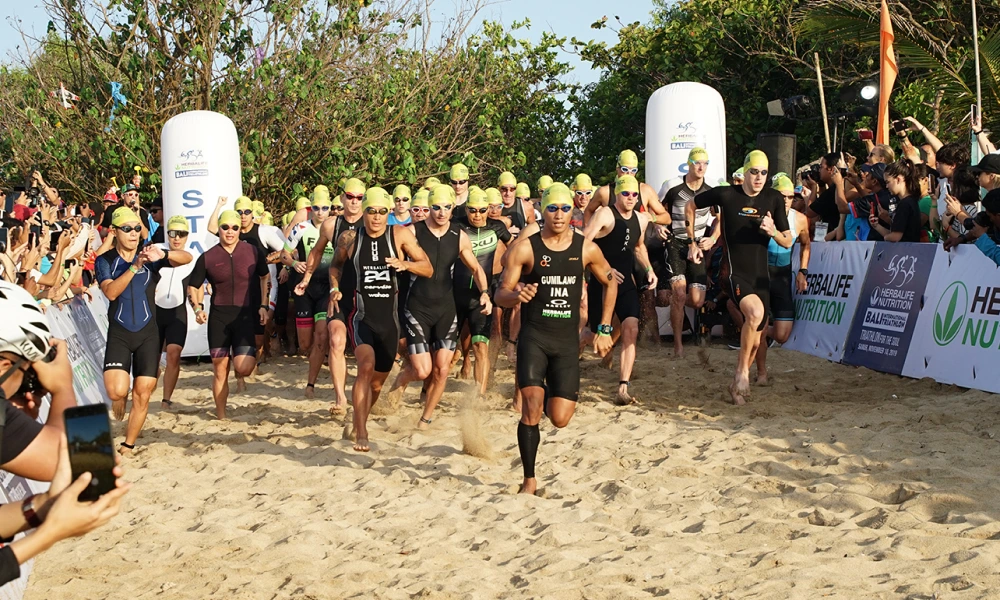 Source: balitriathlon.com
First held in 2007, This year Bali International Triathlon urges everyone to abide by municipal sanitation and social isolation rules while making an effort to maintain a healthy weight.
As in previous years, the race's swim portion begins just after sunrise, with this year's race stroking the calm waters off Sanur's Mertasari Beach.
The bike portion includes sprints down Sanur's Ngurah Rai Bypass and back to the beachside transition area.
The road portion concludes with a race through the city's streets.
Rip Curl Cup at Padang Padang Beach (August)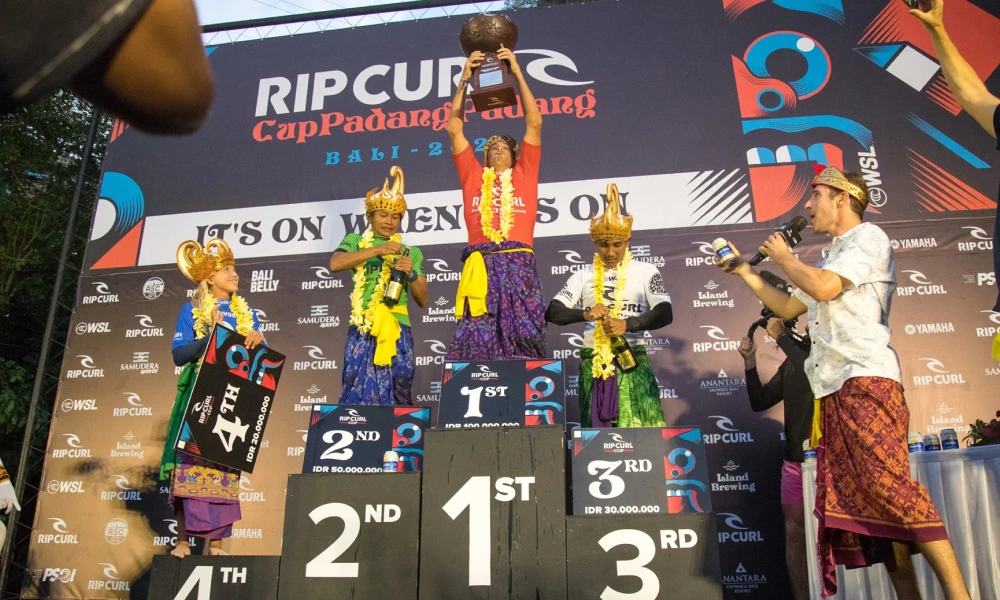 Source: ripcurl.co.id
The Rip Curl Cup is an annual surfing competition held at Padang Padang Beach in Bali, Indonesia.
It is a highly prestigious event that attracts some of the world's best surfers, who compete for a large cash prize and the title of Rip Curl Cup champion.
The event typically takes place in July and August, during the peak of the surfing season in Bali.
The waves at Padang Padang are known for their powerful barrels and challenging breaks, making it an ideal location for a high-level surfing competition.